Emma Nygard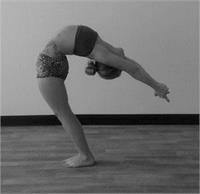 I wasn't exactly the 'yogi type' when I took my first class back in 2010. All my body knew was sports and hardcore trainings, which actually broke my body down. My first class was taken with my mom when I was only 15, I thought to myself 'how hard could this be if I'm so active?'... So I walked in with confidence, set up my mat, and was ready for action. My first class was led by Richard Pike and he killed me, I didn't think there was a way out, especially because how determined I was to get through. I powered through for the longest hour and a half drenched, face beat red, counting down the seconds until it was over. After class, I thanked him and he told me that he'd see me tomorrow so that's when I came back, and I was hooked. I never thought that my broken down knees and shoulders would get better and I knew that the heat combined with the well-thought-out postures that my body was on its road to recovery. I loved the way this yoga challenged me mentally, physically, and emotionally; and that's why I'm still here now. Every time I take class, I go into the room with different feelings, emotions, or aches, and and every time I come out feeling like a new person! I knew Bikram yoga was for me so I jumped on the teacher training boat in Spring 2014. I'm so passionate about my job and Bikram Yoga, and I'm sure if you give it a shot you'd love it too! See you in the hot room!
Emma Nygard instructs the following:
The original Hot Yoga Class. Become the healthiest you have ever been! Improve your flexibility, strength and balance. Transform your body, mind and spirit. This is beginner's yoga - anyone can do it.




Hot HIIT is a training system that combines High Intensity Interval Training (HIIT) and Pilates principles. It combines muscle toning and cardio in a room heated to around 98 degrees. The practice creates long, lean muscle mass while burning fat.

It also, in turn creates rapid results. It strengthens your core, improves circulation, and increase flexibility.

Hot Pilates is performed on a yoga mat. All movements are low impact, which protects your joints and muscles from the pounding of other exercises like running and jumping.